Virginia Highlands Park 
1600 S Hayes St, Arlington, VA 22202
Questions for DPR_ Virginia Highlands Park Outreach. January 2017 ( Engagement process, data, and facilities at Virginia Highlands Park)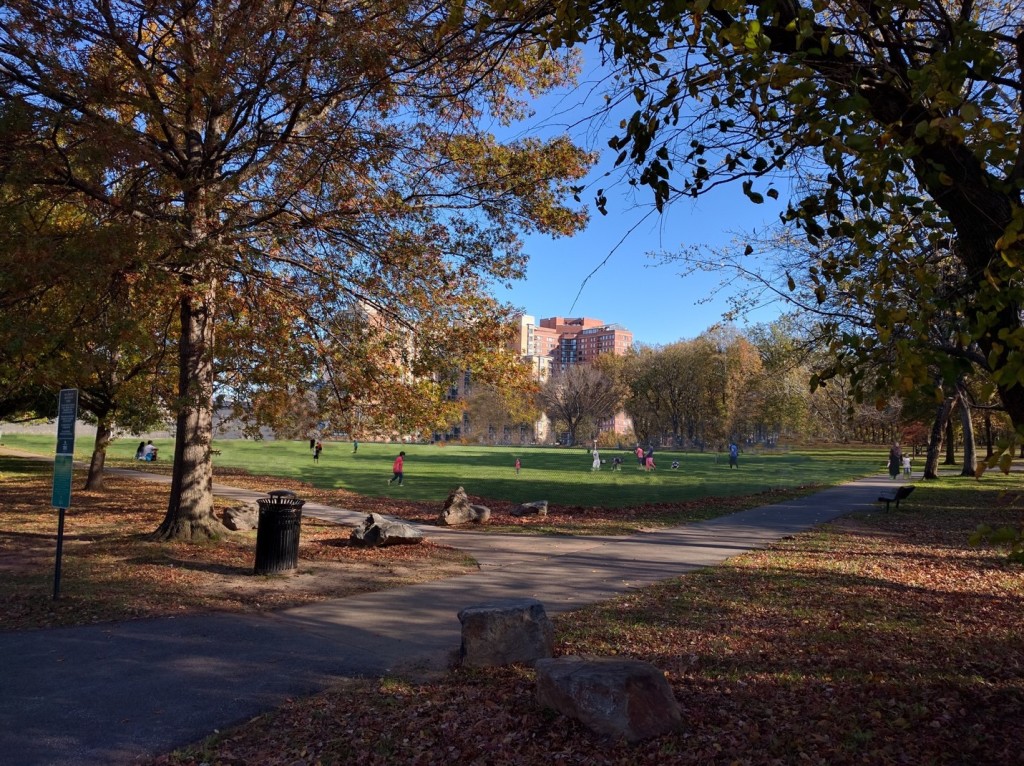 A re-envisioning for the west side of the park. 
Virginia Highlands Park:
Aurora Highlands parks once served a smaller population, but the addition of dense residential and commercial developments in the neighborhood, has put intense pressure on the scarce green spaces. Not only has park land not increased in our neighborhood in any significant way, but the major park, Virginia Highlands, has been treated as a regional park to serve county-wide use. Consequently, available passive green space and mature trees have been usurped by facilities specific to only two uses: sports and playgrounds. Organized league sports predominate, while excluding the majority of the neighborhood's age- diverse population. Currently under construction, this park has added more sport courts, fields, and playgrounds leaving only a tiny fraction of green parkland for other uses. Facilities just at this park alone include 2 soccer/athletic fields, 2 baseball fields, 6 tennis courts, 2 practice tennis courts, 1/2 basketball court, youth basketball court, sand volley ball court, 2 public playgrounds, 5 Peytanque courts, 1 spray ground and pavilions. These facilities are so use-specific that neighbors are prohibited to use them for any other activity, even when they are not in use which is the majority of the time.
While Aurora Highlands' neighbors are proud to host these amenities used by all of Arlington, we regret that they are installed at the expense of open green space and tree-filled parkland that all neighbors could enjoy. With the population and density increasing, the need for natural green and unprogrammed space for all ages and uses in our neighborhood parks cannot be ignored.
Loss of green space in Virginia Highlands Park
August 2015. Virginia Highlands Park in south Arlington has experienced a significant loss of green space over the past 10 years. These losses in green space are not being recognized by the county and are putting pressure on VHP and other neighborhood parks.
"Maintenance" projects
Projects billed as "maintenance" or "replacing" like facilities, currently underway for the athletic fields are removing green space. Before and after measurements of land coverage based on satellite images and the DPR site plan show an increase of 11,300 sf. of paved athletic courts (up from 48,100 sf.) and an addition of 5,300 sf. of sidewalk/plaza space (up from 3,400 sf.).
Estimated 17,000 sq ft of new paved areas just for the 2015 maintenance project. 
Under "Maintenance" a new youth basketball court exists, that was supposed to be "re purposed" from the tennis practice courts. Option from survey: "Existing tennis practice courts to be converted into a youth basketball half-court."
However, the practice tennis courts were rebuilt in a new location (for no apparent reason), and then old practice tennis courts that were supposed to be converted were torn down and rebuilt with a youth basketball court.
Survey comments such as "Good reuse of tennis practice wall" suggest that the community thought this was a true re-purposing and not a tear down, move the practice courts and then also build brand new again the Youth Basketball court.
Further many of the survey comments ask that the park not pave over any new green space, not knowing that DPR's plan had been to move the practice tennis courts, expand all the rest of the courts and add the youth basketball court.
ADA:
Dept. of Parks has claimed that the reason for the redesign of the park was to meet ADA standards. But as far as anyone can determine, ADA recommendations only apply to facilities that people with disability are most likely to use; spas, playgrounds and pools. These are listed in the ADA recommendations. But, even so ADA appears to even have cost exemptions for communities.
Further, this explanation of DPR trying to ensure accessibility becomes more baffling when we look at the only bench on the east side located in passive green space. It is so low to the ground that it is un-usable and was not replaced in the multi-million dollar renovation. But even more perplexing is that DPR removed the former walkway to this bench and now there is NO ADA accessibility to passive green spaces where ADA might be appreciated. (See below photo)
Other park changes over the past 10 years have reduced green space:
The central lawn field was re-regraded in 2014 and classified as a "pickup" field off-limits to other uses such as pets. This area covers 45,000 sf.
The sprayground constructed in 2013 added 3,300 sf. of paved area, not including the additional land used for pump equipment and new sidewalks. This feature was slated to go into the already paved plaza area, but for reasons still unclear to the neighborhood was changed at the last minute.
The fire station expansion constructed in 2004/2005 removed 25,000 sf. of previously open green space.
The north soccer field was refurbished in 2004, replacing the natural grass with Astroturf and restricting use. This area covers 80,000 sf.
Overview 2000 – 2015
To get a better idea of where that leaves us today, the following image shows an overview of Virginia Highlands Park. Areas in white are paved/buildings. Areas in green are restricted use fields. Areas in yellow are restricted use artificial surface. The remaining "green space" is essentially becoming a buffer between activity areas.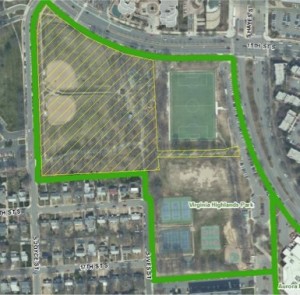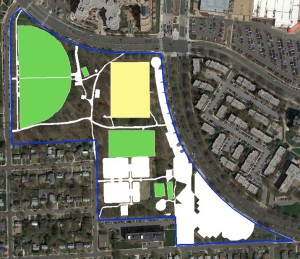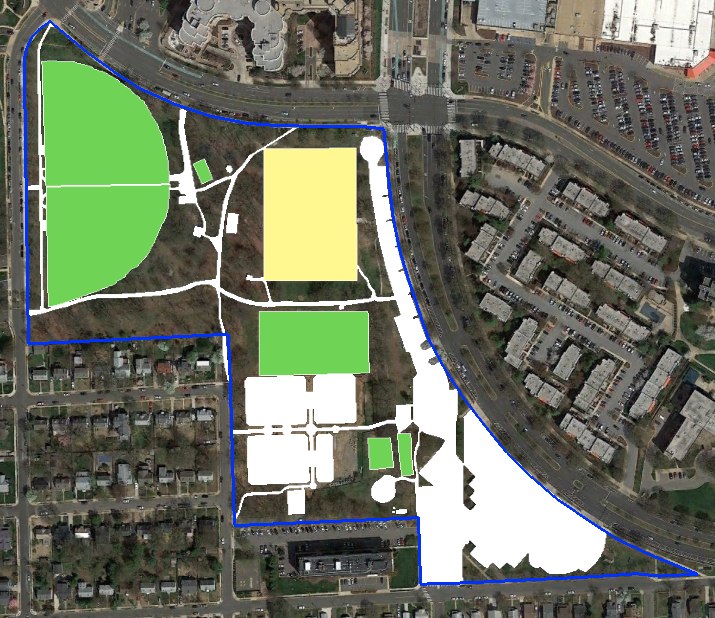 Figure 1: Change in land use by court space, 20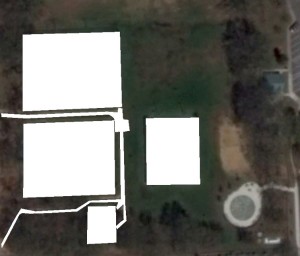 14 to 2015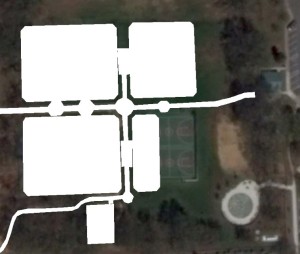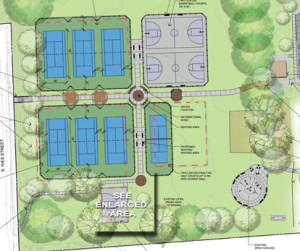 Figure 2: Facilities in Virginia Highlands Park years 2000-2015
Virginia Highlands 2000 – 2015-1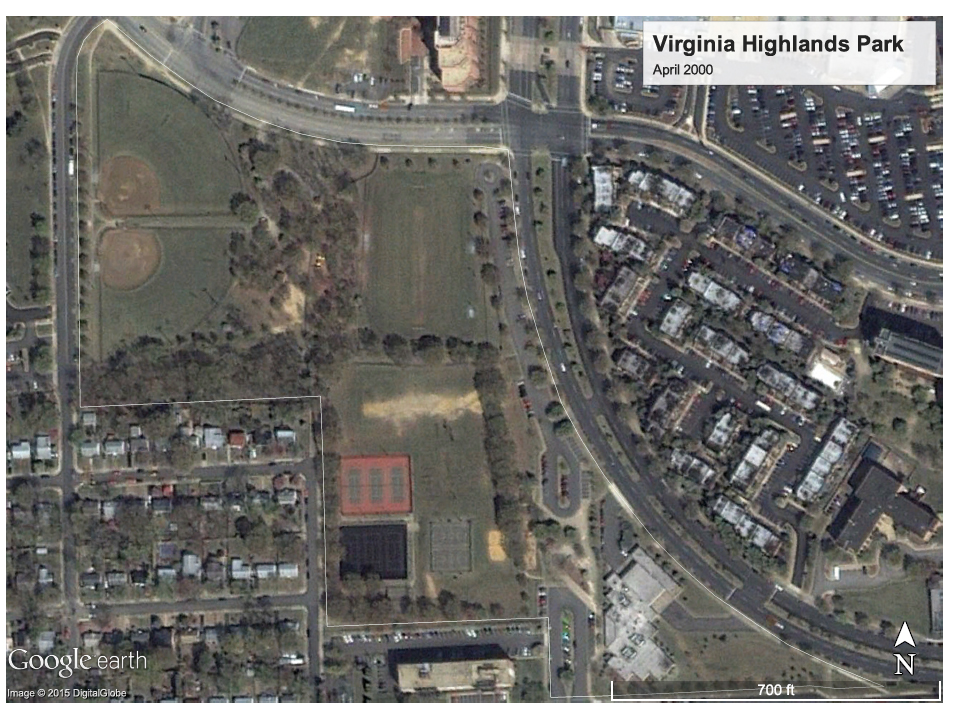 2000:  The east side has green spaces that are used for sports and other multi-purpose needs. Softball fields in left top corner are locked and inaccessible to park goers, only paid and reserved softball league players.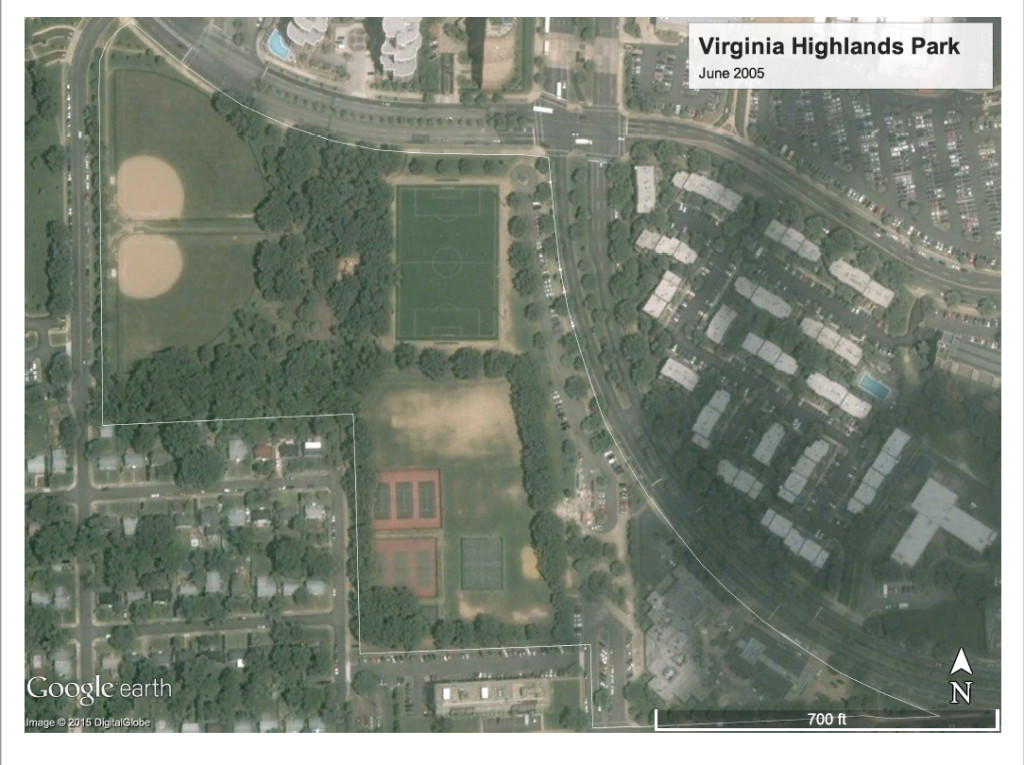 2005:  The east side gets astro-turf field on upper park space that becomes restricted or unusable for other park uses and needs; dog walkers, picnicking, etc… and is reserved by leagues. The other green spaces that are used for sports and other multi-purpose needs are still used. Softball fields in left top corner are still locked and inaccessible to park goers, only paid and reserved softball league players.
2010-2015:  The east side gets a new youth court, the field below the astro-turf field becomes restricted or unusable for other park uses and needs; dog walkers and is reserved by leagues and sports clubs.  A new spray ground goes into the left corner of park with fence that restricts previous passage through the park and removes previously used green space. The sport courts are removed (as seen in satellite image), redesigned and expanded significantly and the loss of green space is nearly complete on the east side.
Community and the park: Concerns about being pushed out,  not funded and environmental issues worsened. 
Park rangers patrol people from walking their dogs now on lower reserved soccer field that used to be green space for the community. No maintenance funding went to community needs such as benches or trees or community gathering spaces like grills or picnic tables, but a new electronic reservation machine, bleachers for the lower soccer field were installed, numerous spectator seating added for the courts and new sport court lights that also shine into the neighborhood were added.
Softball fields are still locked and inaccessible to park goers, only paid and reserved softball league players.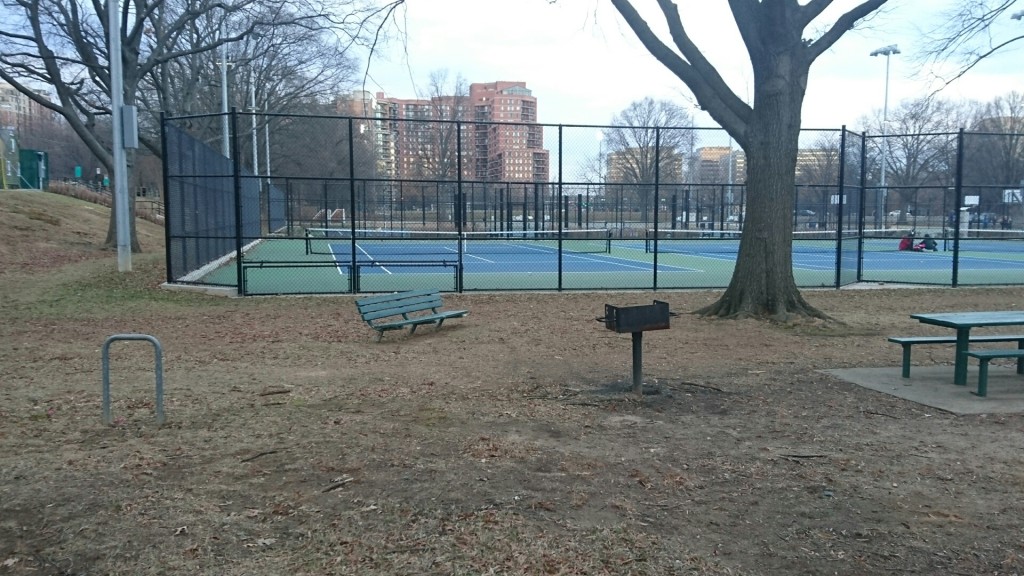 The one bench on east side not facing recreation and was not replaced although it was totally unusable since it has sunk too low to the ground. To sit down on a bench on the east side you must be facing a playground or a sport court. 
A rain garden is also added, but flooding is worse in many areas.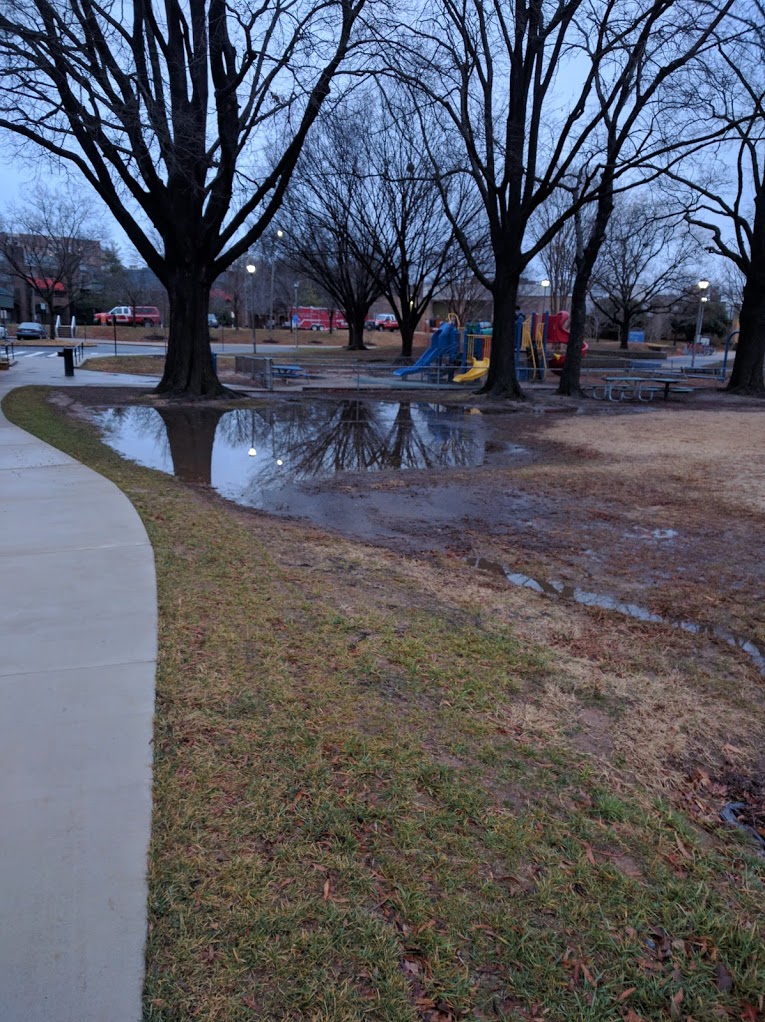 Huge disturbance to park space & use.
Finally, construction is impacting a huge area of the park.
The area of land disturbance is over 100,000 square feet (2 ¼ acres) and is a complete construction site as clearly seen in this April 2015 Google Maps image.
Figure 4: Site disturbance from Virginia Highlands Park athletic court reconstruction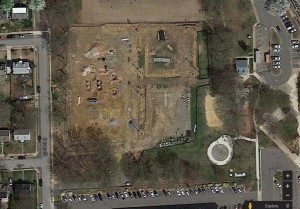 Future
This pressure on Virginia Highlands Park is not going away. In 2016, the county has additional plans for "improvement" to the northwest corner of the park. The results of the current construction strongly suggest that any proposed changes will come with additional loss of green space, whether the county admits to that or not.