Proposed & Current Density Increases into 22202, near Pentagon City mall.
As green space and natural parkland decreases from the addition of programmed and specific use areas, we need multi-purpose and unprogrammed parkland to adequately allow for neighbors to access our parks. Programmed spaces allow for only a certain number of people to use it at any given time– think tennis courts which are fenced off and allow for 2-4 players and are in use for a few only hours each day and seasonally.
However, despite losing this parkland to programmed spaces we are increasing dramatically the amount of residential units over the next couple of years near Pentagon City with minimal green space additions to these building sites. The density increases in our neighborhood are residences primarily in the form of apartment buildings, which necessitate even more public green space; to walk, exercise dogs, enjoy a natural parkland and general outdoor space.
As of the 2010 census, there were 5,514 total housing units in Aurora Highlands and 3,755 in Arlington Ridge (9269 between both neighborhoods). Including the recently completed Metropolitan Park units, that would mean the 4 new developments approved or seeking approval will add 4,910 housing units
River House Plans are on hold as of early 2017 but would increase to 5,994 APPROXIMATE NEW RESIDENTIAL UNITS.   
Metropolitan Park: 1,200 existing. Additional 2,012 proposed. (0-? years)
Pentagon Centre (Costco): 0 existing. Additional 693 proposed. (2 years)
RiverHouse: 1,670 existing. Additional 1,084 proposed. (4-6 years) ON HOLD AS OF EARLY 2017
PenPlace: 0 existing. Additional 300 proposed. (? years)
"Paperclip" building 400 Army Navy Drive.  453 units (currently being constructed 2017)
Crystal House  Corner of S. Eads Street and 18th Street. 252 new residential units (expected to be approved in 2017)
These developments alone represent a approximately 50% increase in housing units, most of which are centered around Virginia Highlands Park. According to the 2015 Trust for Public Land, Arlington as a whole provides 8.1 park acres per 1,000 residents, and excluding federal land reduces that to closer to 4. By comparison are Seattle (8.7), Baltimore (7.9), Boston (7.7), Philadelphia (7.2), New York (4.6), and Chicago (4.6). Based on data on the Arlington DPR site, Aurora Highlands and Arlington Ridge share 45.13 acres of parkland, resulting in 3.0 park acres per 1,000 resident.
With the upcoming density increases and conservatively assuming 1.5 people per housing unit (7,365 people), this drops to 2.0 park acres per 1,000 residents in Aurora Highlands and Arlington Ridge.
River House
Update: Vornado Realty Trust is merging with developer JBG. Development plans for the RiverHouse property have been placed on hold. Source Washington Business Journal.
Please see the FoAHP's October meeting with a presentation by Vornado.
Existing: 1,670 units
New: 934 market rate, 150 affordable, 30k sf of retail (1,084 total)
Area: 37 acres
Proposed Buildings – 3 buildings, seven stories (half height of existing), + 1 affordable
Reduce parking ratio from 1 per unit to .85 per unit – says only 70% filled at night
The current General Land Use Plan (GLUP) shows the Riverhouse property as falling in the Medium Residential Density category where there is a range, depending on a particular property's zoning classification, between 37 and 72 units/acre.  Riverhouse is zoned RA6-15 which entitles Vornado to build 48 units/acre.  If one includes Grace Hopper park that is part of the 37 acre tract, Vornado is entitled, by-right, to add only 102 additional units on the property, not the 1,084 envisioned.
Vornado is therefore seeking to both amend the GLUP and up-zone the entire 37 acres from RA6-16 to CO 1.5. These changes are required to add ground-level retail in the buildings across from Pentagon Row in addition to being able build an additional 1,084 rental units on its property.
There are reportedly only 30 oakridge students currently hailing from RiverHouse.
PenPlace
Plan: 10.2 acres. 5 buildings – 16-22 stores; 2 million sf – mostly commercial, one secure office, one 300 room hotel.  one office building could be 300 unit residential.
The development is expected to be built out over the course of 15-20 years.
The base case includes a provision that, if the open space costs more than the staff's estimate of $2.65 million, Vornado is entitled to added density.
Concessions: a 1.5-2 acre contiguous central green space, a future 20,000 square foot "community facility," new sidewalks and bike lanes on Eads Street, a new street grid to break up the "superblock," and a $15 million contribution from Vornado to the future Long Bridge Park Aquatics, Health and Fitness Facility. (https://www.arlnow.com/2013/09/24/county-board-approves-penplace-project-over-neighborhood-objections/)
There was a community discussion that talked about needs for the open space; this unidentified source stated "Were you at all the public meetings where the park design was discussed? I was. One could always quibble with aspects of the design, but the final concept incorporated some part of all the strongest preferences expressed by the participants. One park amenity in particular that appeared to have been emphasized following discussions was a children's play area. Maybe the public consensus was remarkably similar to what the Olin and Vornado ideas were anyway, but the public's ideas were taken into account."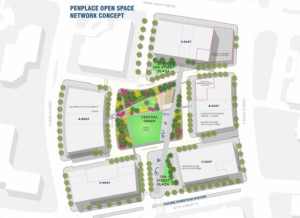 Metropolitan
Current: (phases 1-3): 1,200 residential units
Under construction: (phases 4/5): 699 residential units + 40k sf retail (mostly whole foods)
Future: (phases 6-7): 1,403 residential units
Total: 3,212 residential units
Source: http://www.bizjournals.com/washington/breaking_ground/2013/12/another-perspective-on-vornados.html
"Kettler Inc. built the first three Metropolitan Park apartment buildings — the Gramercy, the Millennium and the Acadia (scheduled for delivery in 2014). Vornado has three more Met Park phases to go, all residential, immediately south of the 4/5. Phase 6, to be built in two phases (but as a single building), is proposed to include 683 units. Phase 7 would contain 359 units, and Phase 8 another 361.
Eventually, Metropolitan Park will be Arlington's largest apartment development at 3,212 units, and will include its two largest apartment buildings. Less than a mile away, Vornado is proposing to build Crystal City's tallest office building, the 800,000-square-foot, 24-story 1900 Crystal Drive."
Met 4/5 concessions: $5 million to the Affordable Housing Investment Fund and $150,000 to the county's public art fund to support art within the Metropolitan Park development. More than $130,000 will be contributed for undergrounding utilities at the development site, and transportation improvements will be added such as expanded sidewalks, street furniture, trees and outdoor cafe seating. The developer has also committed to a design that is expected to earn LEED Silver Certification.
ARCA mentions 2,100 apartments at metpark (http://www.arcaonline.org/2015/07/membership-meeting-july-16-7pm/)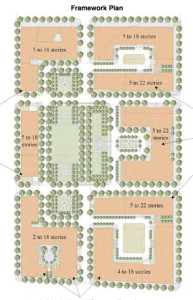 Kimco / Pentagon Centre
In July 2008, the County Board approved the Pentagon Centre Phased Development Site Plan (SP#297) and Phase I Site Plan. The full build out of the PDSP will consist of over 1.8 million square feet of office, residential, hotel, and retail development to be completed in three phases. The Final Site Plan for the first phase of development permits the addition of multiple buildings on-site, with some demolition of the existing by-right retail development. In October 2014, the County Board approved a minor amendment request for the Phase 1 Site Plan to permit changes to the construction phasing, modification of the building footprint, decrease in retail floor area, and elimination of the second floor office use in Building D.
Zoning: "C-O-2.5" Commercial Office Building, Hotel and Apartment District.
General Land Use Plan Designation: "Medium" Office-Apartment-Hotel.
The requested revisions to the PDSP would permit 606,200 square feet of office uses, 377,000 square feet of retail uses, a 160-room hotel, and 693 residential units at full build out.
Phase I Site Plan, for which construction is expected to begin right away. Phase II development would occur upon expiration of leases of the existing big box retail tenants. Phase III would complete the build out of the PDSP upon the expiration of the long-term lease of Costco.
The 2015 PDSP change shifts building of the residential first. It would also increase residential density from 115 units/acre in the 2008 plan to 126 units/acre.
It increases the stories in "Building A" from 20 to 25 stories (23 ft taller) – 440 unit residential
It increases the stories in "Building C" from 8 to 10 stories (same height) – 253 units
693 residential units total